DON'T LET LEAKING GOGGLES RUIN YOUR KIDS FUN.
Designed for youths aged 6+. The Vista Jr Swim Goggles fit like a mask by sealing around the outside of the eyes, eliminating any pressure on the eye sockets. This creates a more Comfortable, Leak Free Fit so your kids can wear them all day without worrying about getting water in their eyes.
Our Quick-Fit Buckle System makes adjusting the Vista Jr head strap easy. Just push the button to loosen or tighten, even while your kids are wearing them. No more fighting with clips poolside or trying to stretch goggles over your kids head.
The Oversized Lenses are made from ultra durable Plexisol and incorporate Aqua Sphere's patented Curved Lens Technology, to deliver a crystal clear 180° wide field of vision. This gives the Vista Jr a very open, unrestricted feel that will boost your kids confidence in the water.
All Aqua Sphere Goggles offer 100% UVA/UVB protection, have a special Anti-Fog treatment, are Scratch Resistant and come with a Protective Case.
FITS LIKE A MASK
Gasket sits around the eyes to avoid any pressure on the eye socket, creating a comfortable, secure seal that won't leak.
QUICK FIT BUCKLE
Makes strap adjustments quick and easy, even while wearing. Just push the button to tighten or loosen.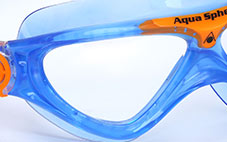 CURVED OVERSIZED LENSES
Delivers maximum visibility with an expanded, 180° wide field of vision for an open, urestricted feel.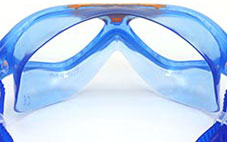 SOFTERIL GASKET
An ultra soft, durable material that will contour to your kids face for a perfect fit.

Superior Research, Craftsmanship & Design

Lenses have anti-fog and anti-scratch treatments
100% protection against UVA & UVB radiation
Materials are hypoallergenic and latex free
Our children absolutely love their new goggles, no slippage when diving in, or vigorous swimming, thank you for such a great product.

We found these better for our daughter than any goggles with individual seals around each eye. Seal is great and so our daughter is no longer constantly stopping to drain her goggles.

Both of my boys love this swim mask, especially my ASD child for whom regular swimming goggles sit too close to his eyes. I'm very happy with them!

As my son said " these are the BEST googles ever!" He's 7 years old and loves them. Says he can swim faster because of Them