DOMINATE THE SWIM WITH THE RACER TRIATHLON WETSUIT
If you're a Competitive Triathlete needing speed, buoyancy, flexibility and warmth in a Wetsuit, then the Aqua Sphere Racer Triathlon Wetsuit is the perfect choice for you.
The 2mm Bio-Stretch Zone gives you the ultimate range of motion in your shoulders, to allow a more natural, unrestricted stroke. The Aqua Drive 5mm Core Body Panel and 4mm Lower Back Panel offer maximum buoyancy that keeps your body position streamlined, reducing drag and increasing your speed. Power Zones on the forearms increase traction with the water during the pull phase of your stroke, and an Easy-Pull Deep Back Zipper and Quick Release Ankle Panels improve your transition time to get you on your bike faster.
Made with Premium Super Stretch Yamamoto 39 Neoprene with an SCS coating that offers the lowest drag coefficient available. Thermo-Guard Technology used through the Shoulders, Chest and Legs retains your body heat, whilst the double layered Aqua-Flex Collar prevents chaffing and provides a watertight seal to avoid the wetsuit filling with water and slowing you down.
All Aqua Sphere Tri Wetsuits are quick drying and offer 100% UV Protection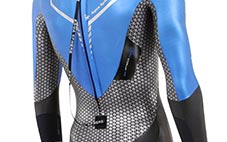 BIO-STRETCH ZONE
Strategically placed 2mm panels under the arms and lower back allow you maximum range of motion.
AQUA DRIVE TECHNOLOGY
A 5mm core body panel maximises your buoyancy whilst a 4mm lower back panel keeps your body streamlined.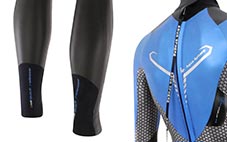 IMPROVE YOUR T1 TIME
An easy-pull deep back zipper and quick-release ankle panels will improve your transition time.
AQUA-FLEX COLLAR
Gives you a watertight seal with maximum comfort through its double layer, ultra-fine design which minimises neck chaffing
Power Zone - strategically positioned sections of the forearm, coated with a super-stretch material to increase traction during the pull phase of the stroke.
Yamamoto 39 Neoprene - Super stretch, high performance neoprene with an SCS coating that has the lowest drag coefficient available.
Thermo-Guard technology - provides warmth, flexibility and range of motion in the shoulders, legs and chest.
Grip Protection System - a specially designed fabric application that minimises friction and creates a shield over the wetsuit for longevity.
Size Guide
| | | |
| --- | --- | --- |
| Size | Weight | Height |
| XS | 121-139 lbs | 55-63 kg | 59-65 in | 150-165 cm |
| S | 139-161 lbs | 63-73 kg | 65-69 in | 165-175 cm |
| M | 155-175 lbs | 70-80 kg | 68-73 in | 173-185 cm |
| ML | 165-198 lbs | 75-90 kg | 70-75 in | 178-190 cm |
| L | 187-214 lbs | 85-97 kg | 73-76 in | 185-195 cm |
| XL | 207-242 lbs | 94-110 kg | 75-80 in | 190-205 cm |
| XXL | 242+ lbs | 110+ kg | 78+ in | 200+ cm |
service was super fast and the right product turned up and it looks fab. I broke my leg so may need to wait to try it out. I think this is my fifth tri wetsuit and first Aqua sphere. It looks even better than my shark proof wetsuit. :-)

Awesome Wetsuit...but no surprise there!

Was very happy to see that the trusted scuba product for us, Aqua Lung, was involved in a triathlon wetsuit and we had no problems choosing over the net the Mens Racer Aquasphere Wetsuit. The material is so smooth you feel like a plane flying through the water. The feel was great. We are new to swimming without scuba gear but these suits are going to make swimming through winter fun. It was definitely easier to put on wet though, to achieve optimum position. My wife has just bought one. Happy Days!