SWIM IN COMFORT WHEN THE TEMPERATURE DROPS.
The ideal wetsuit if you're a beginner triathlete or open water swimmer. The Pursuit Triathlon Wetsuit is an excellent all round swimming wetsuit that offers durability, comfort and value for money.
The Bio-Stretch Zone under the arms and lower back allows an uninhibited range of motion so that your shoulder flexibility isn't restricted in your swim stroke. The Aqua Drive Core Body Panel reduces drag by keeping you buoyant and your body position streamlined so you can glide through the water effortlessly. Putting on and taking off the Pursuit Wetsuit is made quick and simple with an Easy-Pull Deep Back Zipper and Quick Release Ankle Panels, essential when competing in Triathlons.
Made from Super Stretch SCS Coated Yamamoto Neoprene with Thermo-Guard technology used throughout. The Pursuit Swimming Wetsuit will keep you warm and comfortable when the temperature drops. A double layered Aqua-flex Collar eliminates chaffing around the neck whilst creating a watertight seal to prevent the suit filling with water and bogging you down.
All Aqua Sphere Swimming Wetsuits are quick drying and offer 100% UV Protection.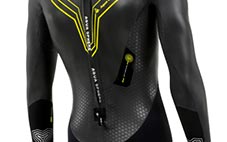 BIO-STRETCH ZONE
Strategically placed 2mm panels under the arms and lower back allow you a maximum range of motion.
AQUA DRIVE PANEL
4mm core body panel maximises buoyancy and keeps your body position streamlined to reduce drag.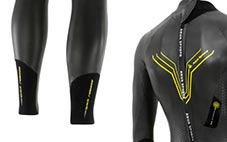 SIMPLE TRANSITIONS
Easy-pull deep back zipper and quick-release ankle panels make transitions quick and simple.
AQUA-FLEX COLLAR
Double layer design creates a watertight seal and eliminates chaffing for maximum comfort.
Yamamoto 38 Neoprene - Super stretch, high performance neoprene. The SCS coating has lowest drag coefficient available.
Thermo-Guard Technology - provides warmth, flexibility and range of motion in the shoulders, legs and chest.
Grip Protection System - a fabric application that minimises friction and creates a shield over the wetsuit for longevity.
100% UV Protection - Essential protection against the high levels of UV radiation experienced in Australia and New Zealand.
Size Guide
| | | |
| --- | --- | --- |
| Size | Weight | Height |
| XXS | 103-121 lbs | 46-54 kg | 53-59 in | 134-150 cm |
| XS | 121-139 lbs | 55-63 kg | 59-65 in | 150-165 cm |
| S | 139-161 lbs | 63-73 kg | 65-69 in | 165-175 cm |
| M | 155-175 lbs | 70-80 kg | 68-73 in | 173-185 cm |
| ML | 165-198 lbs | 75-90 kg | 70-75 in | 178-190 cm |
| L | 187-214 lbs | 85-97 kg | 73-76 in | 185-195 cm |
| XL | 207-242 lbs | 94-110 kg | 75-80 in | 190-205 cm |
| XXL | 242+ lbs | 110+ kg | 78+ in | 200+ cm |
Fast Delivery Quality Product Great Fit / Floatation

FIRST WETSUIT "GONE WRONG"

Ordered a size M Pursuit wetsuit but a size L arrived. Their customer service manager immediately made actions to correct this mistake but since they are already out of size M on the Pursuit, they sent the Racer model as a replacement for no additional charge and in less than 3 days! Really happy with the customer service and the wetsuit itself! Drastically improved my swim time! I am 162.5cm, 68kg and size M fits me perfectly! The quick-release panels down the ankles really help to remove the suit easily. There is a sweet spot of tightness on the collar to avoid water from entering the suit without the feeling of being choked. Really happy with this purchase!

Very happy with this suit. Bought it for my first aquathlon in Tasmanian waters (March). I had to exchange the size from a small to a medium. I am 176cm tall and 67kg. Small was far too small in the torso. Could not be worn. Medium fits very well. Still snug through torso - but that's just my shape. The exchange with this shop was no probs and they were very accommodating and prompt in delivery. Suit slips on very quick and comfortably. Still find getting off a bit clumsy (but I am a noob). More importantly it doesn't feel like it will "just tear" or spit during hasty transition. Seems strong. Small amount of water enters suit at first splash. I think it came in through back zipper. But no big deal. That water warms up quick and keeps me warm. Floatation is excellent.