CENTRE SNORKEL by MP MICHAEL PHELPS AUSTRALIA
What makes the MP Focus Swimming Snorkel stand out from the competition, is it's unique, low-profile triangular tube, which not only provides superior hydrodynamics and ease of breathing but greatly increases it's stability by eliminating any side to side rotation.
The Focus Centre Snorkel is securely mounted to your forehead by an adjustable, lightweight head bracket with integrated cushion keeping it firmly in place when swimming at speed or doing flip turns. A problem Michael Phelps had using swim snorkels from other brands.

The small fit is designed for youth and small adults; the height, mouthpiece, and tube area are approximately 10% smaller. Focus straps are a universal fit.
TRAINING WITH THE MP FOCUS SWIM SNORKEL WILL LET YOU:
Focus on your Technique by eliminating the need to move your head.
Swim Faster by improving your stroke efficiency
Increase your Endurance by building your cardiovascular strength and lung capacity

KEY FEATURES
TRIANGULAR TUBE
reduces drag and improves stability by eliminating side-to-side rotation
CUSHIONED HEAD BRACKET
Adjustable and light weight with an integrated cushion to ensure a comfortable fit
SILICONE COMFOBITE MOUTHPIECE
reduces jaw fatigue with a flap that sits on the roof of your mouth to keep the snorkel in place
ONE-WAY PURGE VALVE
positioned so you can clear any excess water easily without disrupting your swim
VIDEOS
ADD-ONS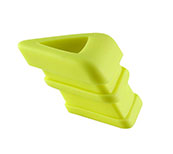 RESTRICTOR CAP - $11.99
Restricts breathing by 40% to increase cardiovascular strength and build lung capacity
This is the first snorkel I've used for swimming and I needed a few sessions to get used to the feeling. Construction is very good and it's comfortable enough to use although I struggle over long distances. Overall great product, would recommend

Best Swimming Snorkel ever!

The best snorkel I have ever swum with! I was skeptical at first, I have been using a snorkel regularly for 4 years and didn't really think this would be much different but I gave it a try and was truly amazed. The angled shape cuts through the water in such a way that there is no sideways movement at all when swimming. It is way more comfortable then my old snorkel and I have shaved minutes not just seconds off my swim time. I also have less issues with mask leakage using this snorkel. Thank you for the difference it has made

Getting used to it at the moment A bit frustrated with it Watching you tubes on the subject and practicing in the pool I'm sure I will improve with practice

i bought the 3 pack to improve my overall swimming technique. I really like the paddles and my stroke has improved out of sight. I have a right shoulder problem and since using the paddles I really get pain any more during or after swimming. I am yet to use the snorkel for any length of time as I find it strange not lifting my head to breath but will pursue that over the coming months. Seems comfortable in your mouth. I think the fins are amazing, very light, easy to put on and take off. Overall well worth spending the extra money for a great product.

I have used many other snorkels in my life as a swimmer, and this MP Focus Snorkel easily trumps all the other models. My favourite aspect is the ability of the snorkel to stay still coming off the walls and at higher speeds. In, addition, it is just so solid in its construction and feels very comfortable.

Very Very confortable , much better than others, I purchased a spare, service from Aqua Sphere excellent, highy recommended, Ive tried ohters this MP by far the bestsnorkel

I recently purchased the MP snorkel on line. I have been using a popular snorkel for almost a year and would constantly get water into the snorkel. I was not able to determine if the water was coming from the mouth piece or the snorkel tube but it was entering and I had to clear the snorkel about 4x every 50 meters. I needed a snorkel that would not allow the water intake and was the main reason for the MP snorkel. It has improved the water issue where I can now go about 150 meters to 200 meters before I need to clear and this is a good improvement over the past snorkel. I am pleased with the performance and allows me to continue my daily 1500 meter swim with less complications.

A comfortable fit, that doesn't affect streamlining

Bought for my son who is a competitive swimmer. Thanks to the head bracket and mouthpiece, he has been able to wear this snorkel for some time in training without getting a sore jaw. The design is also quite rigid when worn, appearing to minimise any drag that usually occurs.

Very happy with the snorkel. Great training tool.